Welcome!
Homage to Liz
by Kim
Like everyone, I am thinking about Elizabeth Taylor today. Her legacy is truly impressive, wouldn't you agree? Not only do we remember her for her film work, but when we think of her, we think about gorgeous jewelry....and husbands. And since I cannot manufacture one of those for you, I opted for a necklace.
This is a photo of Liz after she won the Oscar for Best Actress in BUtterfield 8 in 1960. She also won the same Oscar for Who's Afraid of Virginia Wolf in 1967.
Love this necklace! Click the photo of Liz to see a closer pic of it.
Mine:
It was oh, so easy to make. You need:
Shrinky Dinks (I used frosted ruff n' ready)
colored pencils: goldenrod, 2 colors of green
white felt
snap or hook and eye
needle and thread
scissors, the smaller and pointier the better
an 8mm yellow rhinestone for each flower you make (to fill a choker, you should make 13 or 15)
hot glue gun and glue
gold glitter glue
dinner plate
pencil
Do this:
1. Trace dinner plate on felt. Cut out. Cut a thin strip from outside of circle. Fit strip around neck to form choker. Cut off excess felt. Stitch snap or hook and eye to the back ends for closure.
2. Trace and color in patterns you want to shrink onto Shrinky Dinks plastic. I traced half of the leaves as mirror images, so they could be symmetrically opposite each other on the necklace.
Feel free to use my patterns or draw your own. When you click on this and print it out, the flower should be about 3" across.
3. Cut all pieces out. I lost a few petals on my daisies, but I baked them anyway.
4. Shrink in the oven following the instructions on the package. I have found that they shrink so much better, without curling if you put brown kraft paper or a brown paper bag on the cookie sheet. All those petals will be a nightmare if they start curling up. Here is one before and one after shrinking.
5. Assemble on the felt necklace, starting with one daisy in the center. Place daisies side by side, not overlapping. Tuck leaves under daisy petals. On the necklace Liz is wearing, the leaves do not go all the way around, there are only 12 leaves: 4 around the center daisy, and 2 each for the next two flowers right and left of center.
Glue everything in place.
6. Add thin lines of glitter glue randomly to daisy petals. Let it dry.
I don't know who originally designed the necklace in the photo, but who knows? We might be wearing a copy of a Harry Winston!
Wish I could figure out how to make that Burton/Taylor diamond!
Can't wait for the AMC Liz retrospective!
Take your Vitamin C......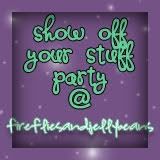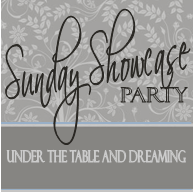 Posted by

Kim
at 7:45 PM