Welcome!
Colorful Button Flowers
by Kim
But, you know that I live in the camp of bigger is better, so here we go...
To make these Bigger is Better button flowers, you need:
assorted bright color buttons
craft wire (mine is black)
crimp tubes
flat pliers
crystal beads
head pins
jump rings
round nose pliers
cardboard or watercolor paper (I recycled a paper drink cup)
scissors
gesso
acrylic paint and paintbrush
circle template about 3"
pen or pencil
hole punch
wire cutters
Do this:
1. Trace a circle on paper or cardboard, cut out.
Punch holes around the outside edge. On one I punched 8 and on another, I punched 12. Poke a little hole in the center with a pen or a nail. Paint with gesso; Let dry.
2. Paint with acrylic paint. Let dry. Attach beads. Place a bead on a head pin. Bend the pin 90 degrees just above the bead. Trim the pin to 1/2". Grab the very end of the pin and roll back toward the bead, making a loop. Hook to the big circle with a jump ring. Do that for all the holes you punched.
3. Cut a wire about 10" long. Crimp a crimp tube to one end. I did not worry about pretty crimps, I just pinched them flat. String on buttons or groupings of buttons. Crimp a crimp tube above and below each grouping. Put as many buttons as you want on the wire, graduating larger down the wire. When you use the biggest buttons, the holes might be too big for the crimp. Just stick a little button on there.
4. Crimp the paper circle below the buttons.
Have fun with colors and sizes. Make a bouquet!
Don't Forget the Giveaway!
Blumenthal Lansing
sends out a newsletter. It is called Button Bits and is full of great buttony info. Go to the
Blumenthal Lansing website
and click on the links that look like this...one to read the newsletter, the other to take the survey.
Fill out the three question survey and you will be registered for the giveaway. BL is giving away $50 worth of buttons including some of their newest lines. $50 worth of buttons!!
You only have until March 31 to fill out the survey. Do it now!
While you are there, click the "join" link at the top of the page and join the BL web community. Newsletters and other fun stuff will come directly to you in the future.
Good Luck!
Take Your Vitamin C.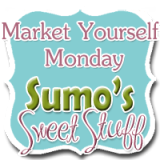 Posted by

Kim
at 12:33 AM