Welcome!
Tie Dye in a Jar
by Kim
Here we are at the New Smyrna Beach Girls Just Wanna Have Fun Art Retreat. Today while the sun was shining and gorgeous, we went out to do tie dye in a jar. I saw t
his technique on Burdastyle.com
. You will want to try this, it was fun and the results were amazing. In practicing this at home before the retreat, I learned a few things that Burda did not tell me.
To tie dye a piece of fabric:
1. Get it wet and wring it out.
2. Twist it and wind it into a big glass jar. You will get a nice organic pattern if you twist the fabric as you put it into the jar instead of just pushing it in. As you wind it into the jar, layer the fabric with powder fabric dye. I tried it with RIT and with Tulip. RIT was cheaper, but Tulip has nicer color.
Keep layering fabric and dye. Add as few or as many colors as you wish. This technique works better if you can pack the jar pretty full. We used a brush handle to push the fabric deeper into the jar.
We were able to get a 2 yard piece of white cotton fabric into a canning jar.
3. When the fabric and dye are layered in the jar, pour boiling water to the top of the jar. Read the dye package to see if you need to treat the dye with anything. The dye we used needs salt to make it permanent. I added it to the boiling water before I poured it in the jar.
4. Put the lid on the jar and let it sit about 3 hours. You will know it is ready when you see that the fabric has absorbed all the liquid. It looks like we have been canning fabric.
5. Pull the fabric out of the jar and open it up to fabulousness. We rinsed the fabric, but really nothing much came off it.
They turned out beautifully. If you get the fabric out and it has too much white space for you, just twist it back into the jar and add more dye and water.
We had these $1 journals and these coasters that I bought in a pack of 8 for 50 cents.
I Mod Podged a piece of my tie dyed fabric onto the journal and painted the coaster. A fat red satin ribbon holds the journal together. It is cute.
Tomorrow, we are tie dying t-shirts in the jars!
Take your Vitamin C and try it!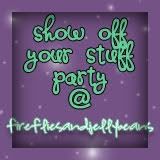 Posted by

Kim
at 10:38 PM