Welcome!
Trendy Embroidery Floss Bracelet
by Kim
This weekend, I did a little jewelry recon at the mall. I check out Macy's now and then because they are the masters at trendy jewelry. When I see similar materials across several brands and lines, I know we are looking at a trend. On this trip, I saw a lot of cotton; mostly embroidery floss, some cording, and even some shoelaces!
This bracelet is super inexpensive to make and fits the trend. It is a cross between a friendship bracelet and beaded jewelry. You could make this with any kind of bead. The technique is absurdly easy and kids could make this easily.
You need:
2 yards embroidery floss
beads of choice, I used 1/4" silver disc beads...the amount will be determined by the length of the bracelet, mine has 26 discs
a toggle clasp
jewelry glue (optional)
Do this:
1. String the toggle bar to the center of the floss. Tie a knot, holding it on.
2. String a disc over one strand of floss. Knot both strands together.
Repeat until the bracelet is the length you need.
3. String one strand of floss through the toggle circle. String the second floss strand through the circle toggle going the opposite direction. Tie a square knot: right over left and left over right. Add a drop of jewelry glue on the knot if you want before trimming the floss ends.
It truly only takes a few minutes to make this bracelet. At the jewelry counter, bracelets with similar materials were $25 - $50. No kidding, this bracelet cost under $2 to make. You probably have the materials in your stash already.
I challenge you to find a trend you like and make it your own. Don't copy it, but use the same materials or the same technique in a different way to make something new. Try it!
Take your Vitamin C!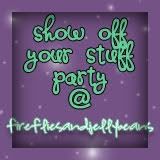 Posted by

Kim
at 11:08 PM