Welcome!
Every Story Has a Bracelet
by Kim
I tend to make bracelets to go with my stories. Some people do it the other way around. But, almost every one of my 2346345232 bracelets reminds me of a story.
Last summer on my mission trip to Germany, we had a day in France. We visited a flea market and you can imagine how exciting that was for me. Most of the rest of the group was bored silly and only allowed me one hour. So, you can also imagine the adrenaline coursing through me as I tried to see everything in one hour. I found a few things I could not live without, this old watch being one. I had to haggle with the vendor, but I took it home.
You can easily make one like it, even if you don't have a watch from France. Maybe you have an old watch from your Grandma or just a cool vintage piece. When I wear it, it always gets comments.
This bracelet is a story about lampwork beadmaking. I have remade this bracelet a couple times, it is on its third incarnation. I wish I had pics of the first two versions...and then again, I remade them for a reason. I love the bracelet, love the dangles, and love
the cute Stephanie Olin silver charms.
But, I have not always loved the beads that I made that were a part of this bracelet. So, I made new beads with new skills, took the bracelet apart and remade it to look better. It was good to see that my lampworking skills were finding some improvement along the way.
Even Bible stories have bracelets at my house. After doing a study of the story of Joshua, I made this bracelet to remind me of it. In Joshua's day, the Israelites made monuments to things that they learned and did not want to forget. Same for me, but in bracelet form. In Joshua chapter 4, the Israelites have just crossed into the Promised Land and Joshua sets up a monument of 12 stones.
And Joshua set up at Gilgal the twelve stones they had taken out of the Jordan. He said to the Israelites, "In the future when your descendants ask their parents, 'What do these stones mean?' tell them, 'Israel crossed the Jordan on dry ground.' For the LORD your God dried up the Jordan before you until you had crossed over. The LORD your God did to the Jordan what he had done to the Red Sea
when he dried it up before us until we had crossed over. He did this so that all the peoples of the earth might know that the hand of the LORD is powerful and so that you might always fear the LORD your God."
When I wear my bracelet, I think about that.
This is a story about procrastinating. One night I had a pile of homework to do and I really wanted to watch "So You Think You Can Dance." I could not justify just watching TV when I should be doing homework, so I got out this pile of Barbie shoes that had just come in the mail. I did eventually get the bracelet published in Bead Unique magazine, so the procrastination was justified as work. And, not to worry, I got an A in the class. Sometimes, when your brain is screaming for a break, you need to listen.
It is almost art fair time. I feel blessed to live in a place where I have quick access to two of the best art fairs in the country. I have been to several all around the USA, so I can make that statement. I don't buy, I go for the inspiration...to see what is trendy, to see what kinds of materials are being used and how. Stuff like that. The last time, I went to the Ann Arbor art fairs, (yes, there are more than one at the same time in the same place) it was all about peace signs. On everything. Well, I am a child of the 70s, and I am hip to the peace sign. I feel it is my right to rock a peace sign, or 50, so I came home and made this.
Do your stories have artwork?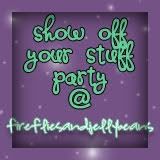 Posted by

Kim
at 7:10 PM