Welcome!
French Watch Bracelet
by Kim
I recently attended Gift Market in Atlanta. One reason I go is to keep an eye on trends. One jewelry trend I saw was the fabric cuff bracelet. There were fabric cuffs of all kinds, even fur with giant pearls sewed on.
I am not too much of a cuff bracelet girl, but there is one style I think I can wear. It is just a silk cord wrapped around the wrist and tied.
Last summer, on
my mission trip, we all spent a day in France
.
Yeah. We started at a flea market that was so stinkin' cool that I could have moved in and lived there. Funny though, Wonder Woman and I had fun looking around but everyone else sat in the hallway bored to death. They let us stay one hour. I cried when they made me leave.
I haggled for three old watches. Weird, that I made it home with only two. Do you think the seller kept one or something? I have no explanation. Anyway, I remembered today that I have those watches. There is no point in putting in new batteries since they tell the time in French, so I opted for some kind of jewelry.
So, I took one off the band. I kept the small dangle...I cannot tell what is on the dangle, it might be a person, but I can't see it well enough. So, I am saying it is Saint Imaginina, Patron Saint of Creativity.
I also added a rhinestone ball, and then slid it onto a silk cord. It ties around the wrist. Fastest and easiest jewelry project I ever made.
Ooh la la!
Take Your Daily Dose of Vitamin C...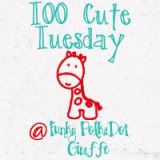 Posted by

Kim
at 10:50 PM