Welcome!
Imaginina Steals a Mod Podge Lamp Idea
by Kim
Here is my new advice: when you get a good idea, work on it immediately. Out of a whole journal full of notes, ideas, and drawings, only one thing seemed valid to me. Everything else was outdated, been there done that. Things trend. Strike while the iron is hot.
These cliches and more to come are brought to you by my entrapment in this office.
Yesterday, I found this green tissue paper blowing around in the yard. I have no idea where it came from. The first second I looked at it, I said to myself. "lamp." A hanging tube lamp was the one drawing in the journal I thought was worth working on. Here ya go:
I started with a mylar stencil blank. It was 9" x 18". The black markings were easily removed with nail polish remover.
Here is the paper I found. Thanks to the litterbug that lives in the neighborhood.
I used the paper formula of Mod Podge to attach the paper to the stencil. Brush it on gently, tissue paper is fragile. To make it a big tube, I overlapped the stencil mylar and a flap of paper. See? Let it dry.
While it was drying, I picked through the bead stash to find enough E beads to make dangles.
Then I used a hole punch around the bottom, made dangles on craft wire, and quick as a wink, Bob's your uncle.
It is on a super long electric cord that has a lightbulb at the end of it. I got that at IKEA, but probably all hardware stores have such things. I punched 4 holes at the top edge and wired the cord into the top of the tube. It hangs by the cord over a work table in the studio. The cord is so long, it can be moved over any work station as needed.
It would have been nice to use two layers of stencil mylar for a little more stability, but I had a heck of a time hole punching through just one. So, don't even try it.
And don't burn your house down by putting a high wattage bulb in there.
Do I have to remind you that this project has unlimited applications? Fabrics? Papers? Photos? Doilies? You're creative, think about it.
Imaginina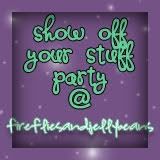 Posted by

Kim
at 1:35 PM