Welcome!
Spring Button Bracelet
by Kim
We have had the most disappointing winter this year. I have kept the hope alive for at least one awesome snowfall, but no such luck for me. So, Uncle! I am giving up and proceeding toward spring. My daffodils are up about 4", so spring must be here. Ridiculous.
So, I used some fun, flowery Blumenthal Lansing buttons to make a button bracelet. It was super quick and easy, using a technique that requires no tools. Go here to see video instructions to make one yourself.
Use your Vitamin C!
http://www.skiptomylou.org/2012/02/20/made-by-you-monday-88/
http://housewivesofriverton.blogspot.com/2012/02/riverton-houseswives-round-up-5.html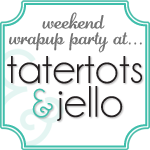 Posted by

Kim
at 5:37 PM