Welcome!
Restyled Lamp
by Kim
I am having the most fun in the studio right now working on requests from Niece 1 and Niece 3 for their dorm rooms! Niece 3 will have as much in her dorm room as I have in my house. When I went to college...in the stone age, I took my clothes. The end. Her room is going to be a reflection of her. Or my studio. Some handmade touches will make it feel homey.
These fancy lamps are popping up everywhere with price tags starting at $50 for small side lamps. Don't get the checkbook out yet. They are easy to make yourself, for much less money. Niece 3 now has this turquoise and black lamp in her dorm room at the University of Michigan.
I got this lamp, complete with shade and bulb at the Salvation Army Thrift Store for $9.99. And, it works. But, no plain lamps for us!
This is a good beginner project. You need the lampshade, a piece of fabric big enough to cover it, Mod Podge (I used the matte finish, but it also comes in gloss and sparkle), a paintbrush, a pair of scissors, a hot glue gun, and a craft boa. You can add acrylic paint like I did, but it is not a deal breaker. Maybe you have some pretty fabric that needs no extra decorating.
Work with the shade sitting on the lamp. Brush Mod Podge on the shade. Work a section at a time, making sure you leave no dry spots. Place the fabric over the wet Mod Podge. Smooth the fabric out with the brush until it is smooth. Keep working, adding Mod Podge and the fabric over it until the shade is covered.
Using scissors, trim the fabric around the top and bottom edges and the final fabric edge on the shade.
Then, to make the lamp easier to dust later, brush a coat of Mod Podge to cover the shade. Let it dry completely.
I added big black dots made with black acrylic paint and a large Spouncer. A Spouncer is a round sponge on a handle. Any craft store worth its salt carries them in 3 sizes. They make painting dots fast and easy.
This black feather boa was in my craft cupboard. Deep in the cupboard. SO deep, it looked like it had been dead for 10 years. It was squished and scrawny. A few minutes in the dryer fluffed it right out. I hot glued it around the base of the shade. Do you know you can buy feather boas in many colors at the craft store? They are inexpensive too.
TIP: Don't glue the boa around the top of the lamp. It gets pretty hot when the lamp is on for awhile. You don't want your lamp to be a fire hazard.
I did not have to paint the base because it was in good shape. So, for minimal work and $, Niece 3 has a one-of-a-kind lamp for her room. I hope she hates it and gives it back!
Restyle with your Vitamin C!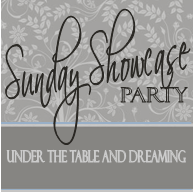 Posted by

Kim
at 9:02 AM